As part of the Annual MLB Groundskeepers Conference held in Denver, a ceremony took place on January 13 at Coors Field to present Boys & Girls Clubs of Metro Denver with a donation of equipment and resources valued at over $20,000.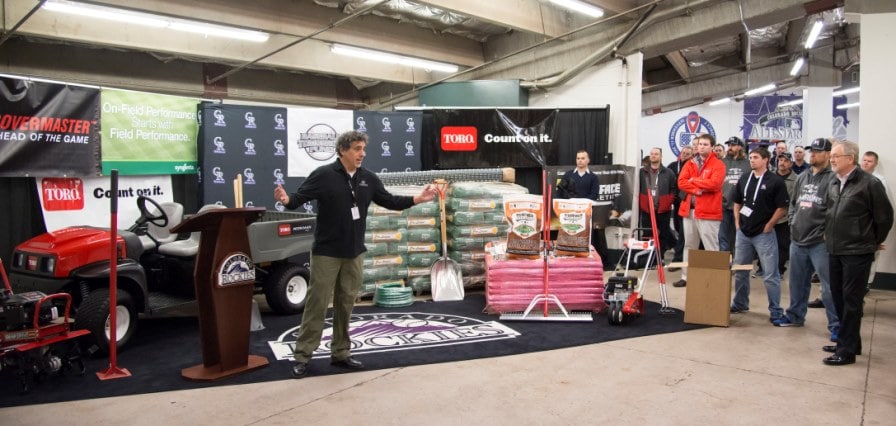 The Baseball Tomorrow Fund, along with MLB Groundskeepers, The Toro Company, Turface, Covermaster and the L.L. Johnson Distribution Company, will donate field maintenance equipment to the Owen Boys and Girls Club of Metro Denver. Additionally, the Colorado Rockies, through the Rockies Community Fund, will renovate the infield at the Andres Galarraga Field in Denver, including supplying all necessary infield materials, having the infield laser graded, as well as aerating, seeding and fertilizing the turf areas and making necessary repairs to the irrigation system.
The donated equipment includes a Toro utility vehicle, Turface mound clay, infield conditioner, field tarps and various hand tools. Galarraga, Rockies legend and five-time MLB All-Star, donated funds to renovate the field in 1995, and since then, the Rockies organization has adopted the club by helping with field maintenance and holding annual baseball clinics with Rockies players.
Special thanks to the organizations who made this donation possible: The Baseball Tomorrow Fund, MLB Groundskeepers, The Colorado Rockies, The Toro Company, Turface Athletics, Covermaster, Inc. and the L.L. Johnson Distribution Company.