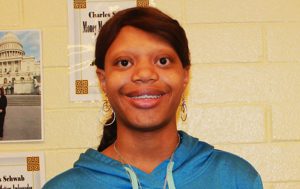 When the genetic odds are stacked against you, life is anything but smooth sailing. Seventeen-year-old Denver Broncos Boys & Girls Club member BreAnna can attest to this after battling many different illnesses throughout her childhood.
At age three, BreAnna was diagnosed with a rare case of abdominal migraines. Over the course of the next thirteen years, BreAnna would also develop alopecia, Graves' disease and diabetes. By age sixteen, with a severely compromised immune system, a series of unfortunate medical issues – including diabetic decay and an influx of severe abdominal migraines – left BreAnna out of school for four months straight. During this time, her energy levels dwindled as she sifted in and out of the hospital trying to find a cure.
"There were times in which I thought the throbbing abdominal pain would never stop and it would make me vomit," recounted BreAnna. "I lost my appetite for nearly four months straight."
When BreAnna finally returned to school, it seemed as if now the academic odds for success were also stacked against her. After missing four months of material, it was unlikely that she would be able to catch up. However, with support from both her school and the Denver Broncos Boys & Girls Club, BreAnna worked tirelessly day in and day out until she finally got back on track. During her time spent catching up on classwork at the Club, BreAnna credits Power Hour – one hour each day solely focused on academic endeavors – as some of her most productive times.
"Power Hour is one of my favorite times at the Club," proclaimed BreAnna with a smile on her face. "I was able to get the necessary help and time that I needed to catch up on my schoolwork."
Eventually, BreAnna was also able to reintegrate into other areas of the Club including the Keystone Leadership Program. Her involvement in Keystone helped her improve her leadership skills while managing projects like the Lights on After School Community Chili Cook-off in which she managed a group of peers while needing to multi-task and delegate effectively in order to successfully run the event.
After BreAnna graduates from high school at the end of this school year, she will go on to continue her education at Johnson and Whales to study the culinary arts. While the transition will be exciting, BreAnna will also greatly miss her time spent at the Denver Broncos Boys & Girls Club. Looking back on the eleven years that she has been a Club member, it is the simple things that she will miss most: a place to practice basketball, all of the good friends that she made, releasing energy in the Cultural Arts room and so much more.