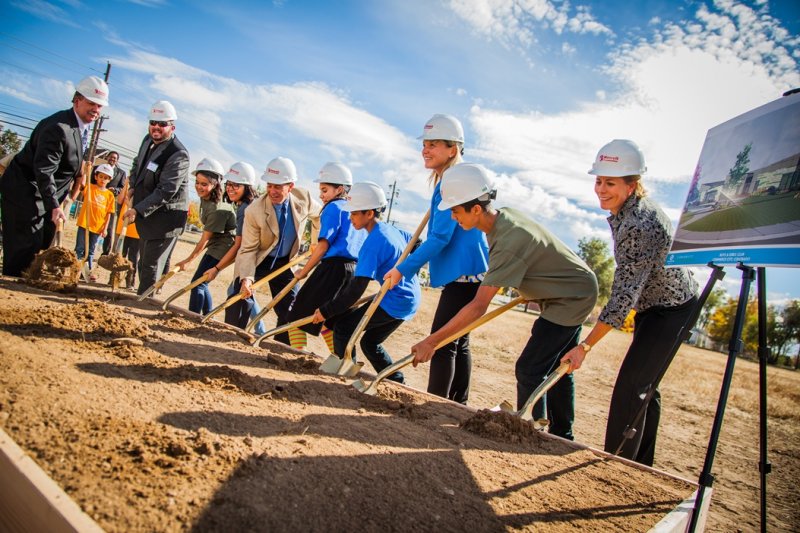 Commerce City Mayor Sean Ford, Congressman Ed Perlmutter (CO-07), representatives from Suncor Energy and other community supporters joined Boys & Girls Clubs of Metro Denver on Tuesday, October 21, for a groundbreaking celebration at the new site of Suncor Boys & Girls Club in Commerce City, Colo. Speakers at the event included: Commerce City Mayor Sean Ford, Congressman Ed Perlmutter (CO-07), Nancy Thonen with Suncor, Boys & Girls Clubs of Metro Denver CEO John L. Barry and Haramarys, a Boys & Girls Club member.
"Today we are a step closer in making the vision of a new Commerce City Boys & Girls Club a reality," said Rep. Ed Perlmutter (CO-07). "This new facility not only provides an invaluable resource for our community but it invests in future generations by providing a safe place for our children to learn and grow."
Boys & Girls Clubs of Metro Denver has been providing programming for youth in Commerce City at Kearney Middle School since 2007. The pressing need for quality afterschool programs for more children in the area has led to the effort to build a new stand-alone facility.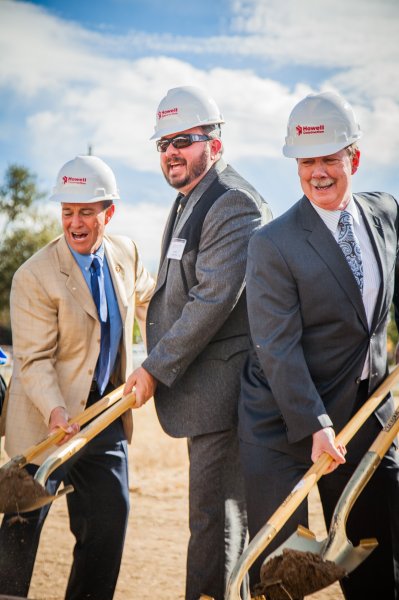 "The Suncor Boys & Girls Club will allow Boys & Girls Clubs of Metro Denver to double its capacity and reach more than 1,000 youth each year," said John L. Barry, Boys & Girls Clubs of Metro Denver Chief Executive Officer. "This undertaking wouldn't be possible without the support of Commerce City, Suncor and all of our donors and supporters who are working to make a difference in the lives of Colorado youth."
The new 20,000 square foot facility will be developed on a parcel of land just two blocks from Kearney Middle School, convenient for kids, parents and caregivers. Part of a larger redevelopment of the former Mile High Greyhound Park, the new Suncor Boys & Girls Club will be an anchor tenant in one of the area's most exciting redevelopment projects.
"On behalf of city council, I am excited to see this important project for our community come to fruition. The benefits of the Club are undeniable, creating engaged youth who are ready to serve and be leaders within our community. That's why the city significantly invested in the new, stand-alone facility and the work of this nonprofit organization," said Commerce City Mayor Sean Ford. "The new club will be a great anchor for the former Mile High Greyhound Park, a new mixed-use development in the heart of historic Commerce City that will not only revitalize this area but reconnect our community and create a thriving sense of place for our residents."
The new Club will feature a learning center, an art room, a teen center, a commercial kitchen, a community garden, a social recreation area, a full-sized gymnasium and a STEM education lab with a tech center sponsored by Comcast and the Opus Foundation. Construction is expected to be complete by fall 2015. Suncor Boys & Girls Club was designed by OZ Architecture and is being constructed by Howell Construction.
Putting this building effort in motion are a lead gift of $1 million from Suncor and a $250,000 commitment from Commerce City along with a 2.5 acre land donation to build the facility.
"As the proud sponsor of the current club at Kearney Middle School for the past six years, we know firsthand the difference Boys & Girls Clubs can make in a young person's life," said Nancy Thonen, director of product supply and refinery sales at Suncor. "We couldn't be more excited to be breaking ground on this new club."
Additional support provided by: Dick and Ze Deane; Tom and Lauren Owen; Robert and Kathy Clark; Boettcher Foundation; Adolph Coors Foundation; Helen K. and Arthur Johnson Foundation; Daniels Fund; William D. Radichel Foundation; Darrel Brown and Suzanne McNitt; Gates Family Foundation; El Pomar Foundation; Union Pacific Railroad Foundation and several other donors and community supporters.
About Boys & Girls Clubs of Metro Denver
The mission of Boys & Girls Clubs of Metro Denver is to empower every Club member, through safe and impactful experiences, to: graduate high school with a plan for college or career, contribute to their community and live a healthy life. Since 1961, BGCMD has been helping kids, ages 6 to 18, achieve academic success, live healthy lifestyles, and develop good character and citizenship. The organization operates 16 safe neighborhood sites throughout metro Denver, and a residential summer camp. Learn more at www.GreatFuturesDenver.org.
About Commerce City
As the state's fourth-fastest growing community, Commerce City is redefining itself for the next generation, building on historic values of community, industry, agriculture and family. Centrally located along Colorado's bustling Front Range, Commerce City is a Quality Community for a Lifetime, with 25 miles of trails, a championship golf course, 700 acres of open space and parks, one of the country's largest soccer complexes and the nation's largest urban wildlife refuge. Learn more at www.c3gov.com.

###