Denver Broncos Boys & Girls Club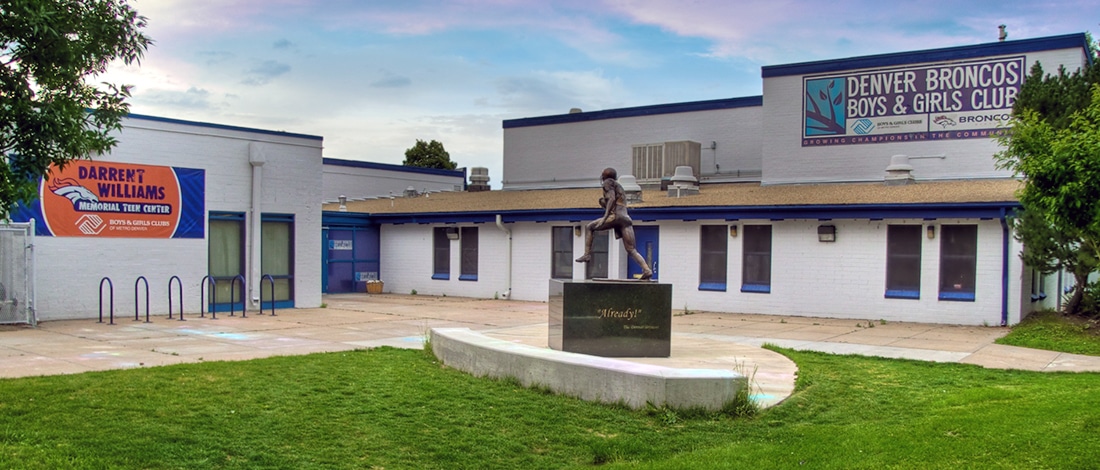 COVID-19 Update
Denver Broncos Boys & Girls Club is closed to in-person services until further notice.
Boys & Girls Clubs of Metro Denver is closely monitoring and evaluating the situation around coronavirus (COVID-19) to ensure we are following the Colorado Department of Public Health and Environment's public health recommendations to protect our communities.

The Denver Broncos Boys & Girls Club officially opened on August 28, 2003. The Club, a partnership between Boys & Girls Clubs of Metro Denver and the Denver Broncos Football Club, serves more than 1,500 kids each year.
The Broncos partnership is about much more than just funding. Several current and former Denver Broncos players are alumni of Boys & Girls Clubs. These alumni along with other players and Denver Broncos Football Club staff have made commitments to share their time and serve as role models for current Club members.
The 14,948 square-foot facility, a former recreation center leased to Boys & Girls Clubs of Metro Denver by the City & County of Denver, includes a gymnasium, arts and crafts studio, learning center, technology center, and game room.
The Darrent Williams Memorial Teen Center was dedicated on May 29, 2008, to better serve the teens in the Montbello community. The Teen Center provides a safe place for teenagers in the Montbello neighborhood to spend their afternoons and evenings. They can work on homework, learn new computer skills, participate in sports with their friends, and much, much more.
This Club also features the U.S. Bank Outdoor Sports Court.
Program Highlights
Homework Help
Athletics
STEM
Teen Center
Gym
Cultural Arts
Field Trips
Outdoor Sports Court
Learning Garden
Join the Club
The Club is open to members ages 6 – 18.
Denver Broncos Boys & Girls Club
Denver Broncos Boys & Girls Club
4397 Crown Boulevard
Denver, CO 80239
Phone: 303-373-1900
Email: broncos@bgcmd.org
Director: Rich Barrows
Club Hours
School Year Hours
Monday – Friday
3:00 p.m. – 8:00 p.m.
Summer Hours
Monday – Friday
8:00 a.m. – 5:00 p.m.
Program Fee
$2 annual fee per member