This February, Boys & Girls Clubs of Metro Denver celebrated the history and accomplishments of Black Americans all month long in our 21 Clubs. Below are some highlights from Black History Month programming and activities!
Learning about the Harlem Renaissance at Montview Boys & Girls Club
Throughout February, Montview Club members learned how Black people have significantly enriched American culture, arts, and music while fighting for their rights. The Montview Boys & Girls Club team, including DEI Committee Member Esther Perez, honored Black History Month with a classroom curriculum that decenters racial trauma and shifts the focus towards liberation and empowerment. The curriculum focused on the art and music of the Harlem Renaissance and elevated Black voices and the positive impact of Black citizens on American culture.
Members also learned about Black leaders who have changed society, including Marley Dias, founder of the 1000BlackGirlBooks Campaign. Additionally, members made fliers featuring important Black figures throughout American history to showcase around their school. To round out a month of Black History Month celebrations, the Club hosted a Black history trivia competition, with winners taking home fun prizes!
---
Bringing Black History to Life Through Art at Broncos Boys & Girls Club
In honor of Black History Month, Broncos Boys & Girls Club members used art to shine a light on pivotal figures in Black history, from Michelle Obama to Misty Copeland. Check out some of their artwork below!
---
Hockey is for Everyone!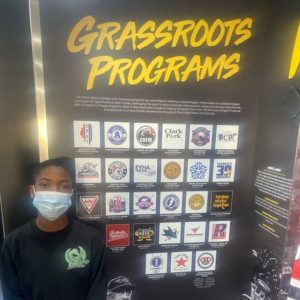 Cole Boys & Girls Club members had the opportunity to visit the NHL Black Hockey History Tour museum this month! They learned about inspiring Black athletes who paved the way in the sport.