Your support helps Boys & Girls Clubs of Metro Denver create special places for kids across the city!  
Every day after school, ten-year-old Daniel walks to the Cope Boys & Girls Club – where he spends hours playing sports in the gym, reading in the education center, and hanging out with his friends.  
Daniel has five sisters at home, so the Club is special to him as his space to be with his friends. "They're like brothers to me," he says.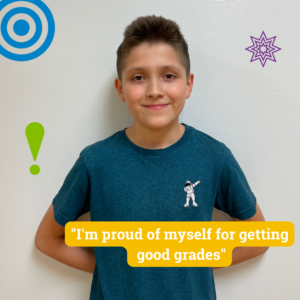 His very favorite part of the Club is the gym, but he heads upstairs to the education center a few times a week to read with younger Club kids. Daniel, who describes himself as "caring" and "a good friend," is a mentor for the kids he reads with – paying forward the support he has received during his time at the Club.  
He's driven to get good grades in school, which is easy when it comes to reading and a little more challenging in math class. "I'm proud of myself for getting good grades," he shares. At the Club, through the support of community members like you, Daniel is growing as a student, friend, and leader.  
Thank you for being part of our community and for your dedication to our vision of a world where all kids have the opportunity to achieve their greatest potential. We appreciate you!  
Discover all the programs kids like Daniel have access to at the Club!