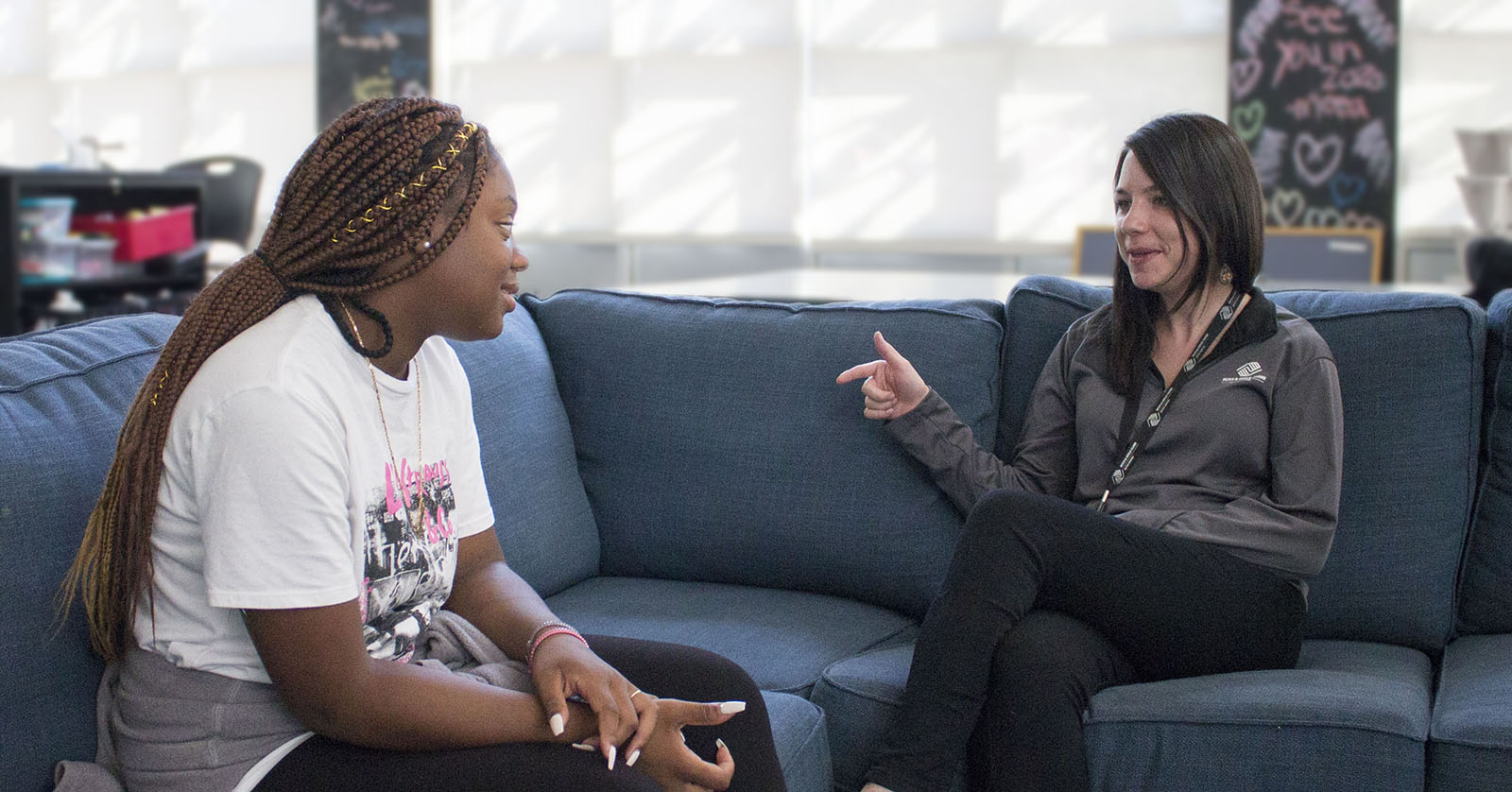 A few months ago, one of our Club members at the Vickers Boys & Girls Club opened up about her family's struggles in a city that seems to grow more expensive by the day. Her single mother and siblings were experiencing homelessness, but the family had been reluctant to share their hardship publicly.
She opened up about being homeless to Rebecca Nolan, a full-time social worker at the Vickers Club, and because of that relationship, the Club was able to connect the family with resources in the community and help get them housing.
That's just one example of the life-changing impact Nolan has had on the local community. She has worked at the Club for just over a year, in what started as a pilot program to offer mental health support inside a Boys & Girls Club.
Helping More Kids Succeed
"We serve a lot of kids and it can be difficult to manage disruptive behaviors. Sometimes, staff can feel spread thin, and it makes it harder to keep programs running smoothly," said Ana Gadson, the Vickers Club Director. "Having Rebecca around to work with those kids changes everything. She provides that individual support and allows us to keep those kids in the Club. Now, they can benefit from our programs. They can be successful."
"I worked with a young boy who showed lots of behavioral concerns," Nolan said. "He was prone to meltdowns and had trouble keeping friends. I worked with him regularly to help build skills to better handle his emotions."
With Nolan's help, the boy learned new coping skills and instead of disrupting the Club's programs, he started to benefit from them. But that progress was tested when one of the boy's close family members passed away unexpectedly. The traumatic loss of the boy's family member presented additional, complex challenges for him to cope with, but out of the hardship came a deeper connection between Nolan and the family.
"After the death, the member and his mom leaned on me for support," Nolan said. "It was an honor to support their family through such a hard season of life."
Implementation is Key
"I think if we just announced one day that we had a social worker on staff, that it would have made some families uneasy," said Gadson. "The way we incorporated Rebecca into the team is what made it successful. She didn't rush things. She spent time not just with the kids, but also with their families. She's made open communication with parents a priority."
The Club conducts surveys of members and uses the results to prioritize the need for Nolan's services. A Club-based social worker focuses on helping kids heal from trauma, establish safe and meaningful relationships and navigate the world with confidence and support.
Nolan conducts individual and group therapy sessions on a regular basis, but much of her work is more informal. She greets kids by name as they enter the Club and checks in with parents and guardians at the end of the night. Her connections with kids are authentic and her work with families is collaborative and open.
"I've been inspired by how our members engage in our therapeutic groups," said Nolan. "Last week, I held a friendship-building group with four members and was so happy to see a new friendship blossom from the activity. Two of the girls who attended are now hanging out every day and really getting to know each other."
Overcoming the Stigma
"When Rebecca was meeting families, we first introduced her as a family liaison," explained Gadson. "There can be a lot of stigma around mental health, and that's unfortunate because everyone can benefit from this type of support, especially the kids we serve."
Quality mental health services do exist within our communities, but unfortunately the needs of our kids outweigh the available resources in Denver. In Colorado, no school districts meet the preferred ratio of mental health professionals to students to serve the one in five kids who experience mental illness.
"It's no secret that our members experience a disproportionate amount of trauma and hardship in their lives," said Dana Choquette, Boys & Girls Clubs of Metro Denver's Director of Behavioral Health Services. "The presence of a social worker in our Clubs has added an extra layer of emotional support for both kids and staff."
A Model for the Future
The pilot program at Vickers was a response to a need in our community for mental health care for children and teens that is accessible, culturally competent and affordable. Boys & Girls Clubs of Metro Denver has established trust with thousands of families through high quality programming and meaningful relationships. We are also well-positioned to take the next step and go even deeper in supporting our members. This initiative not only includes implementing highly trained social workers, but also focuses on an organization-wide movement towards incorporating social and emotional learning into everything we do. All Club staff undergo consistent training in implementing evidence-based SEL practices into their daily work.
Nolan's work at the Club has been so successful that Boys & Girls Clubs has hired a second social worker at our Suncor Club in Commerce City. The hope is to provide similar supports in more Clubs as funding and resources allow.
"With the addition of mental health services, Boys & Girls Clubs of Metro Denver can provide a comprehensive approach to supporting youth with everything from camaraderie on the basketball court, to providing a safe and trusting place for them to heal from hardship," Choquette said.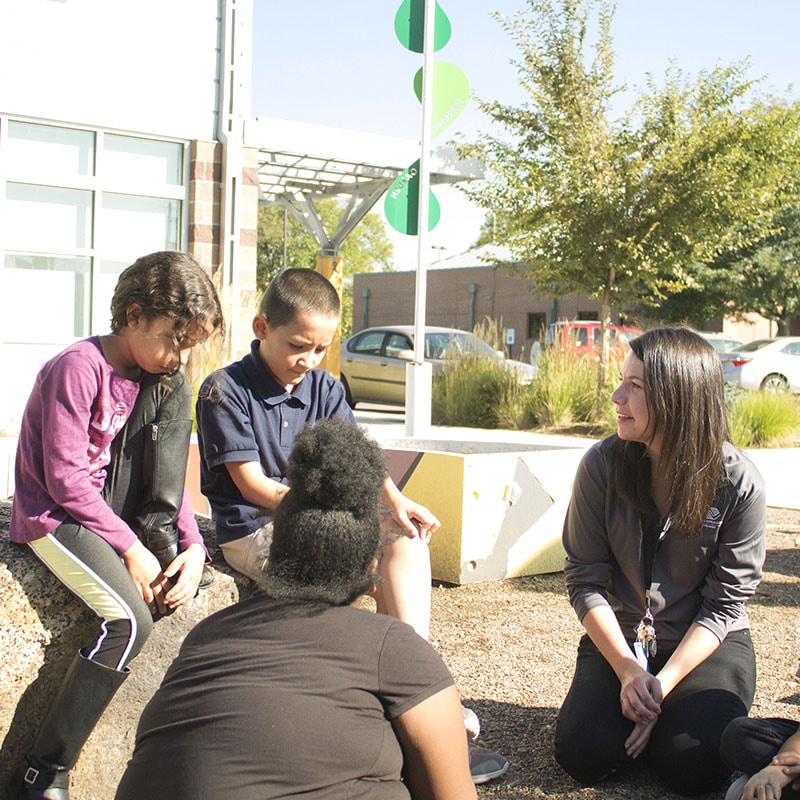 Rebecca Nolan, right, a social worker at the Vickers Boys & Girls Club often works with Club members in group sessions.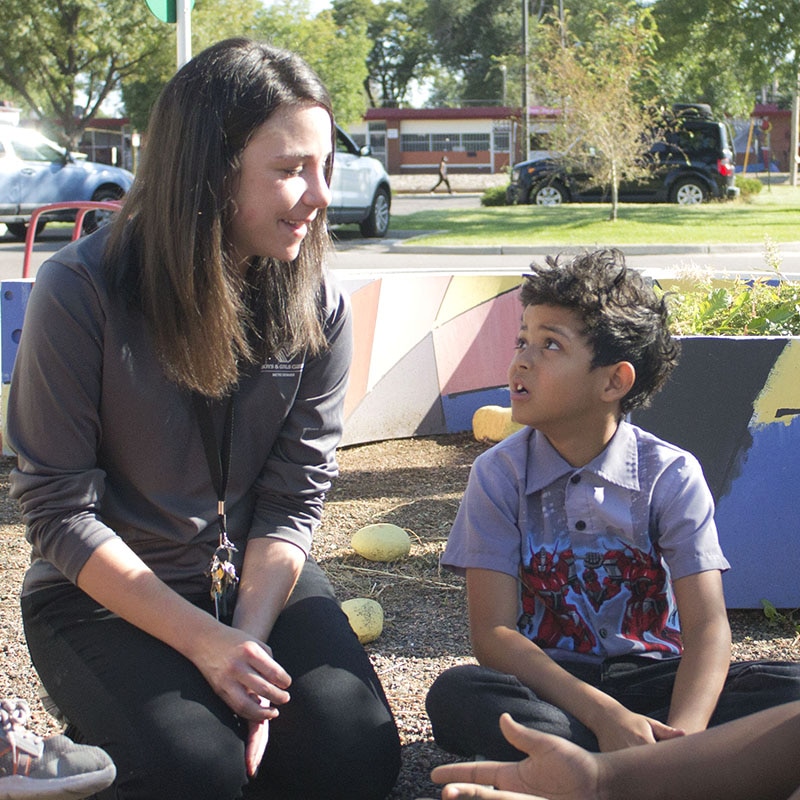 Nolan talks with a young Club member near the Vickers Club garden.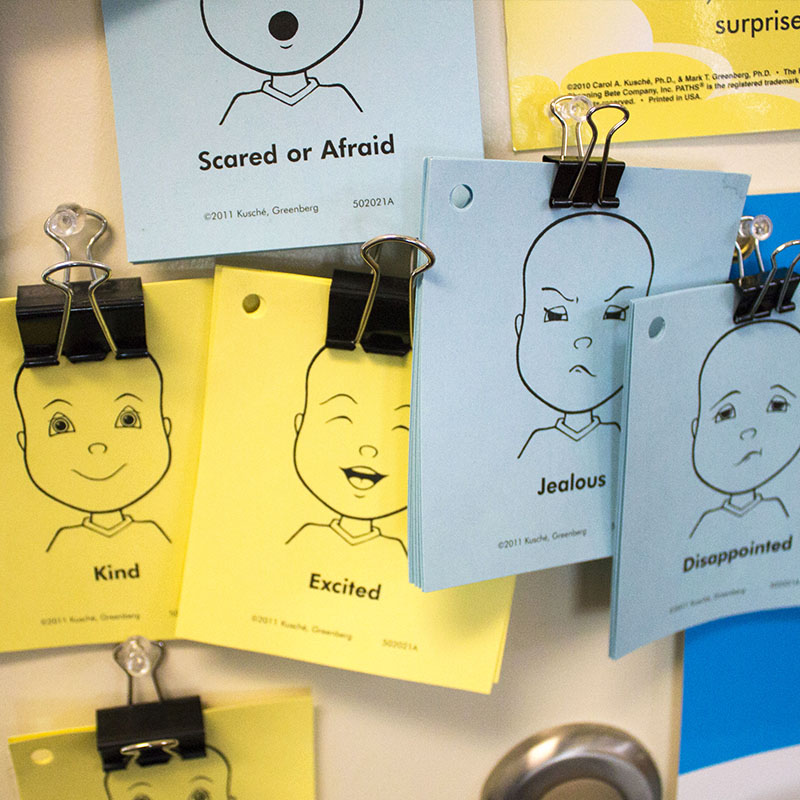 Visual aids inside Nolan's office help Club members describe their feelings and emotions.