Every Thursday at the Cope Boys & Girls Club, a group of 16 to 25 girls gathers in the tech room for "Girls Group."  For about two hours, they focus on what matters most to them and to their STEM Specialist, Savannah Putnam. For the girls, it's all about friendship. For Savannah, it's about growing the girls' relationships with each other and STEM subjects.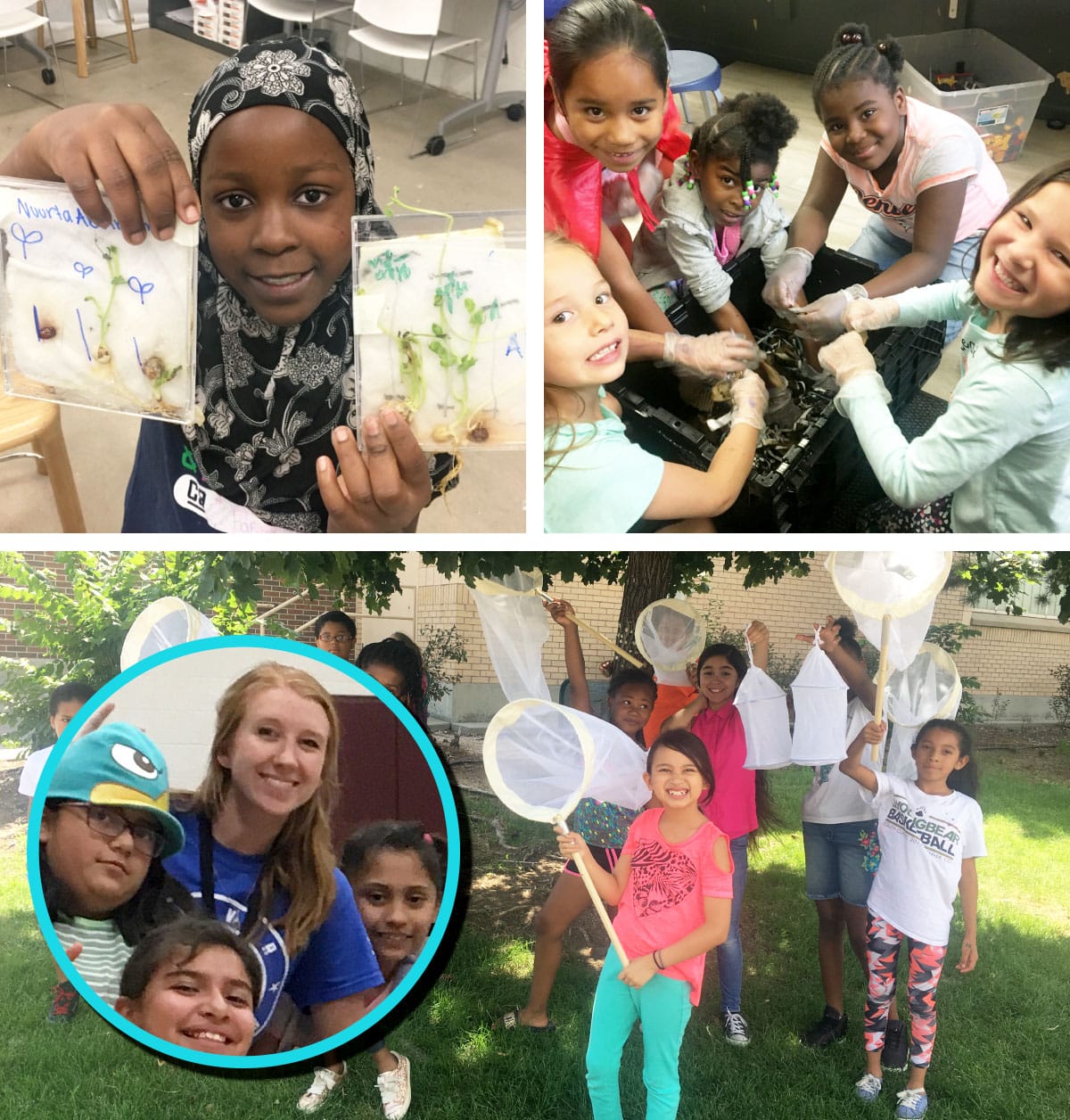 WHO IS SAVANNAH PUTNAM?
Ecologist. Girl guide. Self-confessed bug lover. In her last job she worked with Denver Botanic Gardens on a wildflower identification book, "Wildflowers of the Rocky Mountain Region." After publishing the book, she wanted something more people focused but within the science arena.
FAVORITE THING
I love that I can get the kids excited about what I'm excited about – like Bug Club. We go around collecting bugs and the kids love it. The first day I brought out a compost bin, the girls were all  "Oooohhhh – give me gloves!"  It only took one day until they couldn't wait to dig their hands in.
THE CLIFF
Around age 10 or 11, I see a drop off in interest in STEM. After that, the girls' priorities shift. They become less focused on school academics and more focused on their friends and trying to be cool.
They will still do STEM activities if I make it fun. I also have food at every one of these which is a great motivator. Because the girls place a lot of importance on their friendships, our Girls Group is a friendship-focused group that I add STEM to.
IT'S ALL ABOUT TRUST
In my experience, the path to STEM is a relationship with a trusted adult and an opportunity to grow with a friend. Continued interest in STEM needs consistency, friendship and a trusted adult leader. That's the point of having Girls Group – so we can establish trust.
Their big fear? Is this going to be lame?  If they think it's going to be lame, they don't want to be associated with it.
FRIENDSHIP AND STEM
To let the girls connect a little bit, the meeting begins with them sharing the highs and lows of their week and what they've been struggling with. Then, we have about an hour and fifteen minutes of structured activities, followed by time for the girls to hang out with each other.
During the structured time, we focus on different STEM activities or a social topic like gossip or bullying  – depending on what's going on with them. For example: fighting. Some of our girls are very reactionary. At the beginning of the year, they believed that if somebody messes with you, you need to retaliate to protect yourself.
Girls Group gives me the chance to ask them, "Is it working for you to retaliate?" My goal is to have them think about the bigger picture, and see how their actions impact others.
About a fourth of the time, we focus on something STEM – robotics, digital art, natural science and science experiments. Overall, I keep it pretty relaxed, because that seems to work best.
Calling All Science Godmothers!
Savannah would love to do Ant farms with the kids in the fall.  If you'd like to donate ant habitats, a great option is the Eviva Sciences Amazing Ant Habitat and you can find it on Amazon!