Anita Padilla-Fitzgerald 

Sound Bites
Anita Padilla-Fitzgerald didn't come from money. She made it. One job at a time and then, one company at time. When people told her she wouldn't succeed, she became even more determined – until succeed she did. Today, Anita owns and leads multiple successful companies – one, the largest independent mortgage company in Colorado. She's come a long way from humble beginnings in Commerce City where she wanted to win "most athletic" in her high school yearbook. Instead, her teachers selected her for the "Soaring Eagle" award. It seems her teachers knew her well.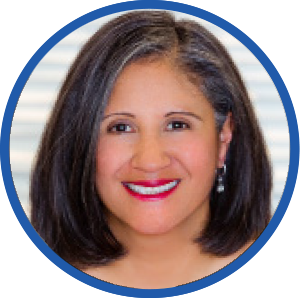 The only one who can believe in you is you.
I'm an entrepreneur and I don't really look at things as a risk. I look at them as an opportunity to learn.
You need to be challenged to learn what you can do better.
I say all the time, God has been very gracious to me. God graced me with a mind to think the way I think and health and love and a circle of friends and community.
I never felt discriminated against, outside of going to high end department stores. Looking back on my experience through my career, everyone has seen one color – and that color is GREEN.
I've never been disrespected. But I demand that.
Getting to Know
Anita Padilla-Fitzgerald 

BELOVED BOOKS
"Forbes Greatest Business Stories of All Time" by Daniel Gross
"The Four Quadrants of Time Management" by Alex Czarto
FAVE TV
"Family Feud" – It reminds me of home and family and I love watching the families celebrate together.  
FAVE FILM
"An Officer and a Gentleman" – I like to watch how people treat each other – Debra Winger's character versus her friend who was just looking for a lifestyle.
SHOUT OUT
Juanita Chacon. When I lost my first job, she encouraged me to start my first business and continues to be an advocate for me and for Latina women.