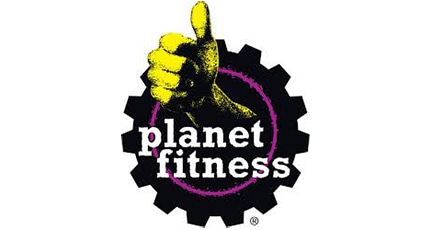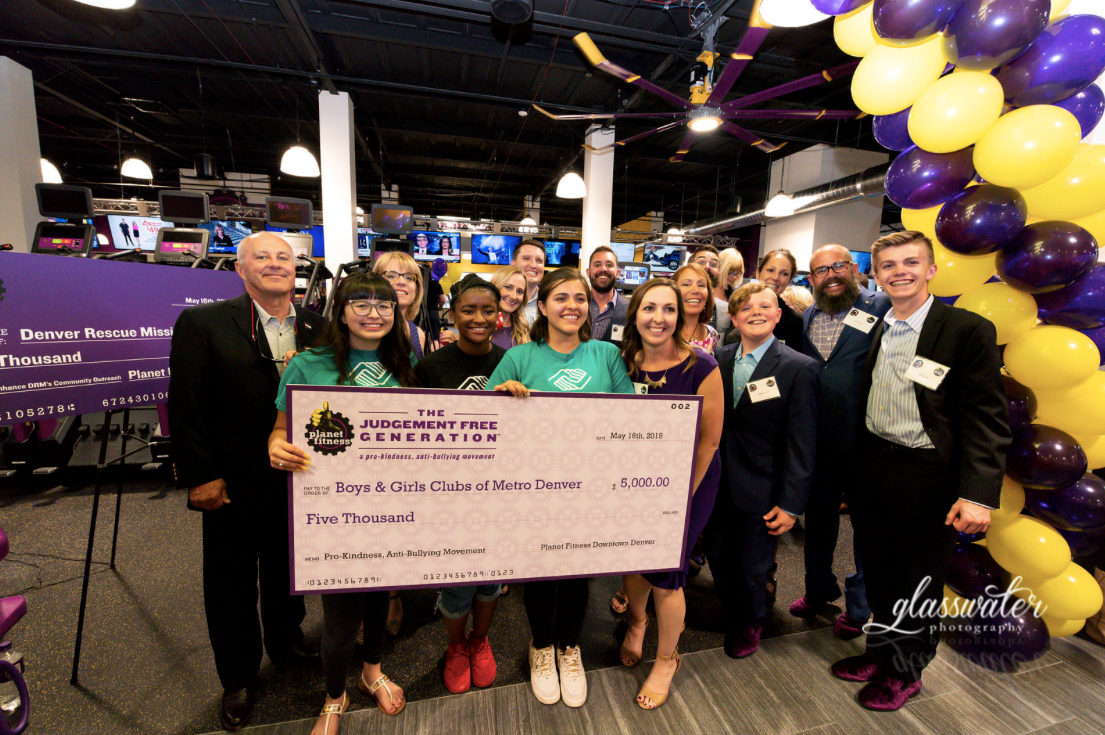 Planet Fitness invited our Club kids to the opening of their Downtown Denver location last May and made a generous donation to support our programs.    📷 credit: Glasswater photography
Over the last three years the Planet Fitness team has become like family to Boys & Girls Clubs of Metro Denver.
Our partnership with Planet Fitness (Jost ADK) began in 2016 with a $6,000 donation to the Johnson Boys & Girls Club, celebrating the opening of their Lakeside location. From there, they started $100 monthly contributions to cover the cost of the Club's Youth of the Month dinners.
In a short period of time, Planet Fitness became a holistic partner of our Clubs through volunteerism, supporting our Youth of the Year candidates, and even becoming prestigious event sponsors.
Planet Fitness works hard to support health and wellness in the communities that they are located and the local Denver franchises have come together to help support our kids and Clubs through their investment in our Healthy Lifestyle Programs. In addition, they will be celebrating our Youth of the Year winners with us at our Gala as a top Diamond Sponsor. We are so grateful for this partnership with Planet Fitness and we are excited to see where 2019 will take us.
Youth of the Year
Planet Fitness owners have participated in the Club and City levels of Youth of the Year (YOY) judging. At these opportunities, Club members from each of our locations who have participated in the YOY program go in front of community leaders to share their stories and be interviewed. Club and City level judges will meet several deserving youth and select one Junior (age 14-15) and one Senior (age 16-18) winner who will then be honored at the annual Gala in April 2019.
Nuggets Game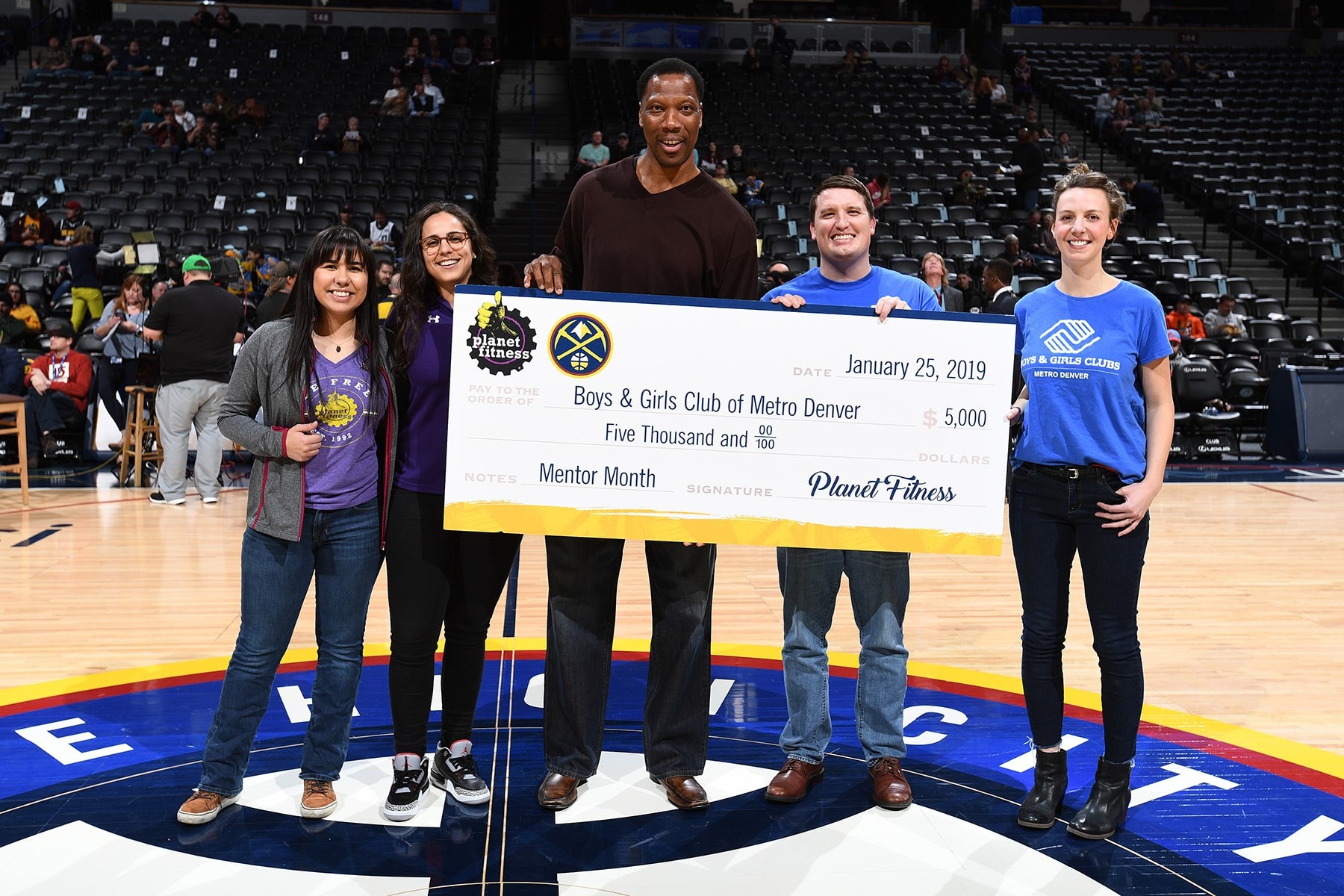 Planet Fitness and the Denver Nuggets partnered to provide 100 of our Club members with tickets to the Nuggets game on January 25th – and then added a $5,000 donation to support our programs! Nuggets alumni Ervin Johnson (pictured) also volunteered to run character and leadership activities in the gym for our Jeffco and Suncor Club kids.
BGCMD worked with Planet Fitness to coordinate 100 Club members to attend a Nuggets game in January 2019 to be a part of a pre-game check presentation on the court for $5,000 to Boys & Girls Clubs! What a fun opportunity for our kids and staff.
Grand Openings
When Planet Fitness opens a new location they donate to Boys & Girls Clubs and have so far contributed more than $15,000 back to the Clubs in the Metro Denver area!
This past January, we were extremely grateful to and to honor to celebrate with Planet Fitness in Brighton at their Grand Opening, where they donated $100,000 to our Shopneck Boys & Girls Club!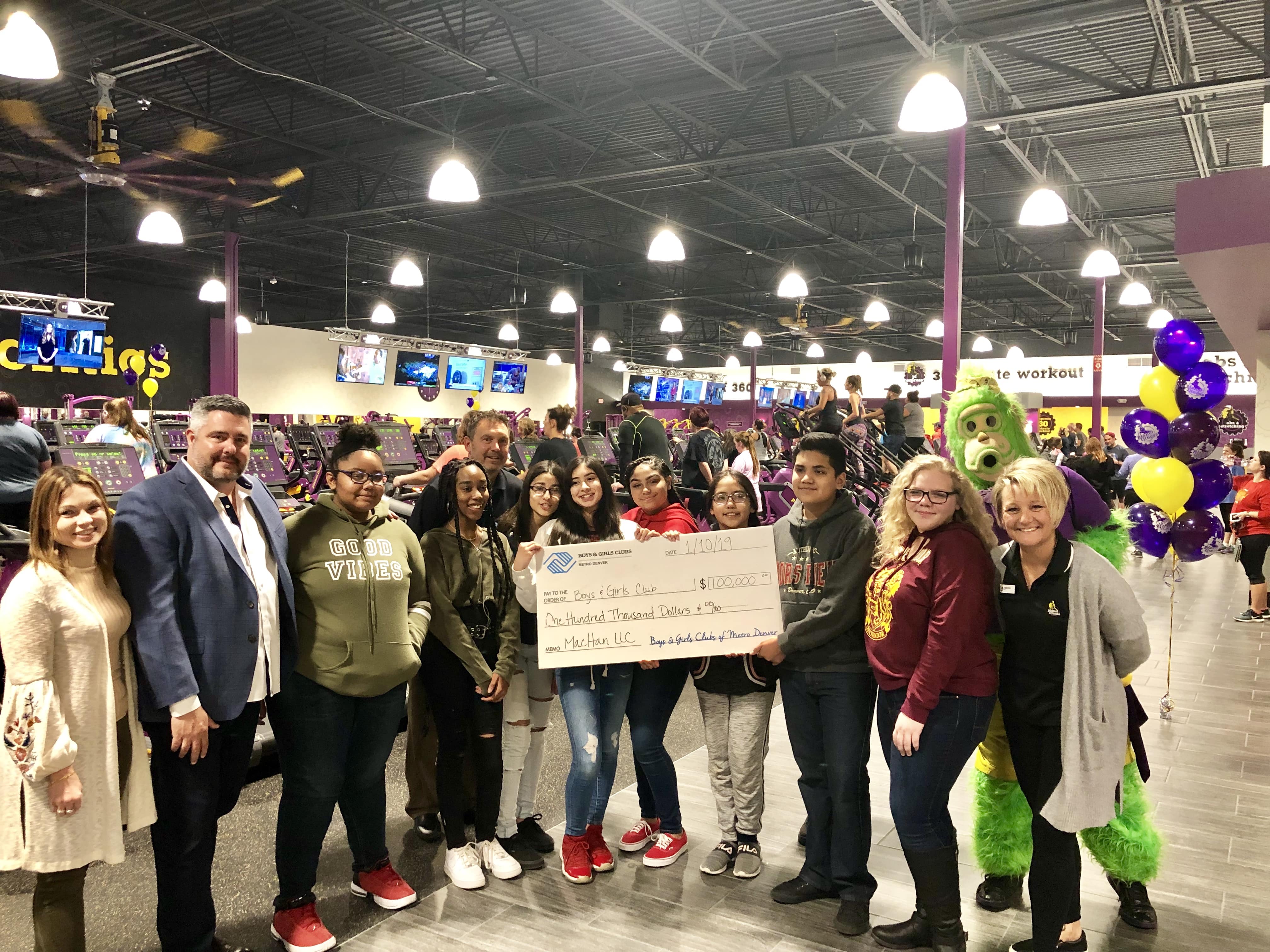 Planet Fitness welcomes Boys & Girls Club kids to their new Brighton gym and makes a
generous donation of $100,000 to our programming.
Volunteering
Planet Fitness loves interacting with our members in the Clubs. Below is a short list of the activities they enjoy doing on a regular basis:
Jefferson County Garden
Ervin Johnson anti-bullying presentations at Johnson, Jefferson County, and Cope
Pinewood Derby Judging
Back to School and Toy Drive Collections at each location
Sponsored monthly family nights at the Johnson Club
Collected hundreds of toys at Planet Fitness locations for our Holiday Toy Drive
Event Sponsorship
We look forward to having the amazing Planet Fitness crew at our Gala again this year and thrilled that they decided to join the prestigious list of event sponsors at the Diamond Level! We look forward to celebrating with them in April in support of our outstanding Club members who participated in the Youth of the Year program.
In addition to our Gala, Planet Fitness has come out in full force for two years at our Halloween-themed 5K Run – Scream Scram! They set up an amazing expo booth and bring out their iconic purple jeep to bring in the crowd.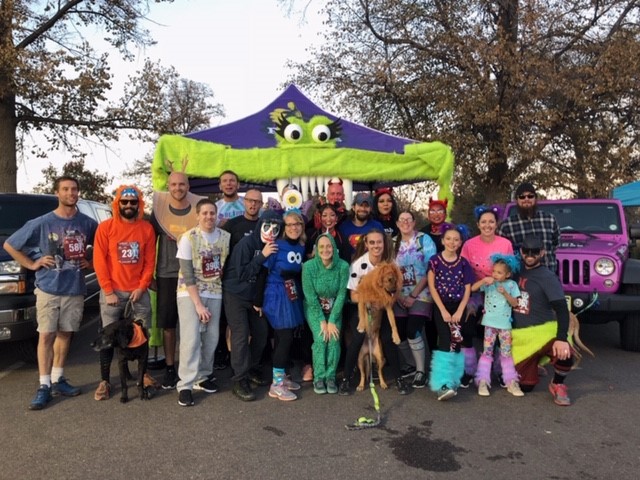 Planet Fitness has supported many Boys & Girls Clubs events – including our Halloween-themed 5K Scream Scram for the past two years.