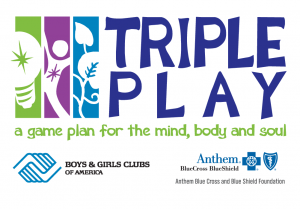 Boys & Girls Clubs of Metro Denver received a new grant to improve the health and well-being of metro Denver area kids attending the Johnson Boys & Girls Club/ The $5,00 grant was provided by Boys & Girls Clubs of America and Anthem Blue Cross and Blue Shield Foundation. The Johnson Club provides kids and teens with critical programming during out-of-school time that creates a positive environment and supports a healthy, active lifestyle. This grant is one of over 100 distributed across the country by the Anthem Foundation to support Triple Play programming, which delivers health education and programming that promotes the importance of physical activity and proper nutrition, and enables youth to build the skills needed to overcome environmental factors that can negatively impact health and wellness.
Triple Play approaches wellness with a comprehensive, multi-dimensional curriculum designed to help youth create opportunities to take charge of their personal health and wellness. Club members receive evidence-informed health education and programming, delivered in a fun and engaging environment that enable youth to develop the most critical social and emotional skills that are core to success in all areas of their development.
Anthem Blue Cross and Blue Shield Foundation is committed to improving health and strengthening metro Denver communities. Through its Healthy Generations grant program, Anthem Blue Cross and Blue Shield Foundation works to identify the issues most in need of attention and then directs its financial support and volunteer efforts toward improving health in those areas. Promoting youth health and active lifestyles is an ongoing focus of the foundation.