Join us in celebrating Janus Henderson Investors as our Corporate Partner of the Month! Janus Henderson Investors has been a phenomenal partner of BGCMD for several years, most recently deepening their commitment though their sponsorship of our Project Learn program.
Janus Henderson Investors believes in supporting the community and creating opportunities to help children succeed and achieve their goals through education. Their investment in Project Learn helps low-income youth between the ages of 6-18 succeed in the classroom through enriching and educational programs like Power Hour, Accelerated Reader and Pathways to Success.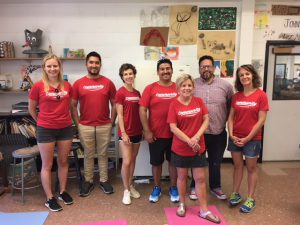 Volunteers from Janus Henderson Investors have shown up for our Clubs in many ways over the past few years. Last month, the team brought their great energy to the Johnson Boys & Girls Club, where they did crafts with the kids and provided a delicious ice cream treat. This wasn't the first time we've welcomed these great volunteers and we can't wait to have them back again soon!
We are grateful to Janus Henderson Investors for being such phenomenal partners. Our Club kids are lucky to have you as their advocates and champions!