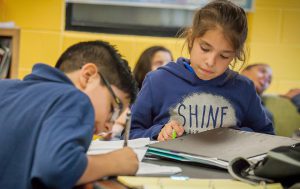 As summer begins, many students will enjoy a couple months away from their education. While they may be having fun, many will return to school in the fall at lower achievement levels than when they left before break. This occurrence, known as "summer learning loss" or "summer slide," is a serious setback for students from historically disadvantaged groups.
A study from the Review of Educational Research found that students' achievement scores declined by one month's worth of school-year learning over the course of summer break. Students experienced declines in reading and math, with larger losses at higher grade levels.
Another study conducted by the Social Science Research Network in 2016 found that black and Latino students lost more learning during the summer months than their white peers. Combining this fact with the already existing opportunity gaps present in many school districts, it is clear that steps need to be taken to combat summer learning loss.
Helping to fill the desperate need for affordable and educational engagement, Boys & Girls Clubs of Metro Denver provides summer programming from 9:00 a.m. to 5:00 p.m. During this time, we provide Club members with access to ample educational opportunities to help kids keep and continue their academic gains.
The Review of Educational Research found that summer reading programs were an effective strategy to combat summer learning loss and low-income students benefited most from these types of programs. For example, the Clubs' Accelerated Reader program is designed to encourage reading comprehension and help level the playing field for all kids.
Summer learning loss isn't just limited to reading – which is why Clubs also offer highly-qualified education specialists, STEM activities, computer lab access, cultural arts and more.
Click here to learn more about our Clubs and apply for membership.