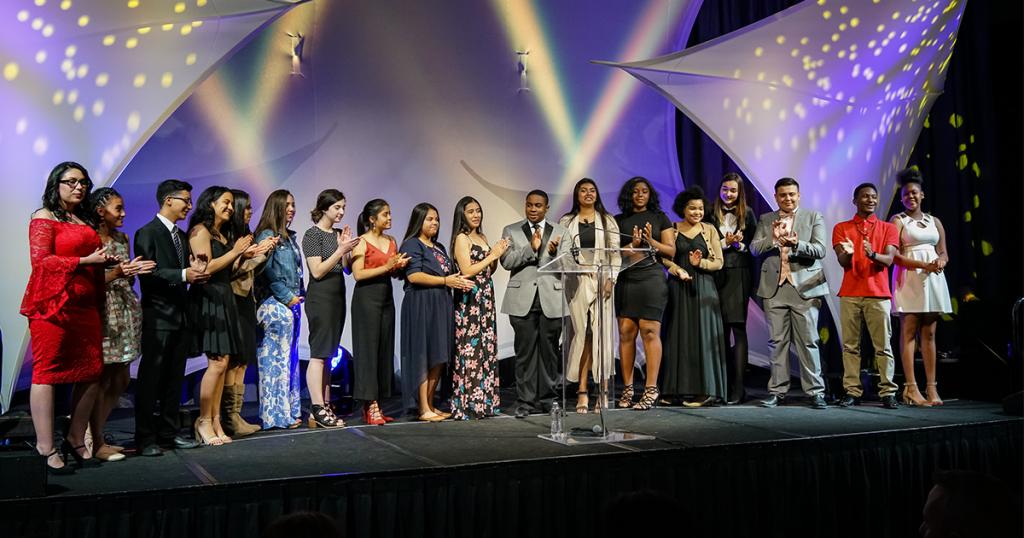 Boys & Girls Clubs of Metro Denver raised more than $1 million at the annual Boys & Girls Clubs Gala, presented by RBC Wealth Management – the largest amount in the event's history.
The event, held May 19 at the Hyatt Regency Denver, featured more than 1,000 guests who gathered to celebrate Boys & Girls Club members and raise funds to support programs and services at 15 Club locations throughout the Denver area. The theme for this year's gala was "Be a Hero for Kids" and the event highlighted the Boys & Girls Club Youth of the Year winners – outstanding youth leaders who have demonstrated leadership, academic excellence and commitment to a healthy lifestyle.
"We want to sincerely thank everyone who supported and attended this year's gala and helped us make history by bringing in more than $1 million to support our Club members," said Boys & Girls Clubs of Metro Denver CEO Erin Porteous. "The vital services that Boys & Girls Clubs provide are only possible because of the generous support from our community."
The gala's presenting sponsor, RBC Wealth Management, has maintained a long-term partnership and support for Boys & Girls Clubs in both metro Denver and in other key markets across the country for the past 20 years. Through employee volunteer efforts, financial contributions and sponsorships, as well as board service, RBC and its employees have helped touch the lives of thousands of Club kids with an understanding that successful businesses can only happen in flourishing communities.
"We're incredibly grateful for both the opportunity to help present this year's Boys & Girls Clubs Gala and to continue what has been an incredible partnership with one of our community's most valued organizations," said RBC Wealth Management Senior Managing Director, Dan Ball. "The impact that Boys & Girls Clubs delivers back to our community is told across multiple generations and we're excited to help support and grow the resources that are so vital to these young kids, their families and our community as a whole."
In addition to RBC Wealth Management, top sponsors for the 2018 Boys & Girls Clubs Gala included: Bartlit Beck Herman Palenchar & Scott, LLP; Charles Schwab; BluSky Restoration Contractors, Extraction Oil & Gas, MDC/Richmond American Homes Foundation; RJ Clark Family Foundation; Suncor Energy; and Whitmore & Wendy Baby.
About Boys & Girls Clubs of Metro Denver
The mission of Boys & Girls Clubs of Metro Denver is to empower every Club member, through safe and impactful experiences, to: graduate high school with a plan for college or career, contribute to their community and live a healthy life. Since 1961, BGCMD has been helping kids, ages 6 to 18, achieve academic success, live healthy lifestyles, and develop good character and citizenship. The organization operates 15 safe neighborhood sites throughout metro Denver and one residential summer camp. Learn more at www.GreatFuturesDenver.org.
About RBC Wealth Management — U.S.
In the United States, RBC Wealth Management operates as a division of RBC Capital Markets, LLC. Founded in 1909, RBC Capital Markets, LLC. is a member of the New York Stock Exchange, the Financial Industry Regulatory Authority, the Securities Investor Protection Corporation, and other major securities exchanges. RBC Wealth Management has $348 billion in total client assets with approximately 1,800 financial advisors operating in 200 locations in 40 states.